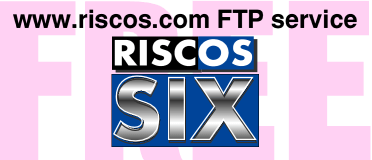 This page contains free of charge downloads suitable for RISC OS Six If you are using a different version of RISC OS then please return to the main FTP index page and select the correct version of RISC OS. If you install items designed for a different version of RISC OS then you may encounter problems and have to rebuild your !Boot sequence.
Software Licence & Disclaimer
The software downloads available here are free of charge and with no guarantee. Please read this disclaimer before downloading any files. 3QD Developments Ltd grants to each person ("User") who downloads software from this server a personal non-transferable non-exclusive limited license to the User to use the software solely for their own purpose on an Acorn computer or emulator running the appropriate version of RISC OS. To read the full licence please click here.
It is a condition of downloading software from this server that you comply with the Software licence conditions. By the act of downloading any item of software you are deemed to have read and accepted both the licence conditions and disclaimer.
FREE of charge downloads for RISC OS Six

SparkFS

Self Extracting SparkFS
All of the downloads from this site are compressed inside archives. You will need a way of decompressing these archives under RISC OS. If you don't already have a suitable de-archiving tool for RISC OS then we recommend using the read only version of SparkFS. Please click here for installation instructions.

---


Printers1.64a

Printers 1.64a - Release 2
Suitable for all versions of RISC OS from 4.02 onwards. This version of printers is included in the default RISC OS 4.02 disc build.

---


PDFs

Printers 1.64a - Printer Definition Files
Suitable for use with !Printers 1.64a or later running on RISC OS 4.02 or later. Behaviour on earlier versions of RISC OS cannot be guaranteed as these PDFs use the new format colour palette.

---


Printers1.67a

Printers 1.67a
Adds support for USB printers.

---


Printers 1.91

Printers 1.91 (Printers+)
This version of !Printers was 'open-sourced' via SourceForge so that it could be developed by the community. This version adds support for remote network printers and supports some advanced printer features.

---


Taborca

Taborca
Taborca is an addition to the RISC OS 4 printing system that allows the RISC OS printer drivers to print directly to a PDF file, rather than to a physical printer. This allows any application that supports the RISC OS printing system to generate PDF files of up to 3 pages in length. Taborca is not suitable for use with RISC OS 3.

---